CLEAR YOUR ACNE FAST
---
Shield's dermatologist-tested acne system is made specifically for men's oilier, thicker skin.
Rated 4.7/5 stars
Dermatologist
Tested
Natural
Ingredients
Fast
Results
💪 ELIMINATES ACNE
Twice as strong as store brands,
clearing even stubborn acne.
💦 BALANCES OILY SKIN
Lightweight solutions balance
oils, reducing oiliness & dryness.
💯 WITHOUT IRRITATION
Science-backed, natural formulas
safe for sensitive skin.
REAL RESULTS FROM REAL PEOPLE
---
"My skin is perfect. I need more. I seriously have never felt more confident in my skin."

Noah J.

"Not gonna lie I like it a lot. I use it every day. Has my skin very moisturized and clear."

"I use it everyday and my girl said I've been glowing. Y'all are onto something"

Alex C.
Shield System
60-Day Supply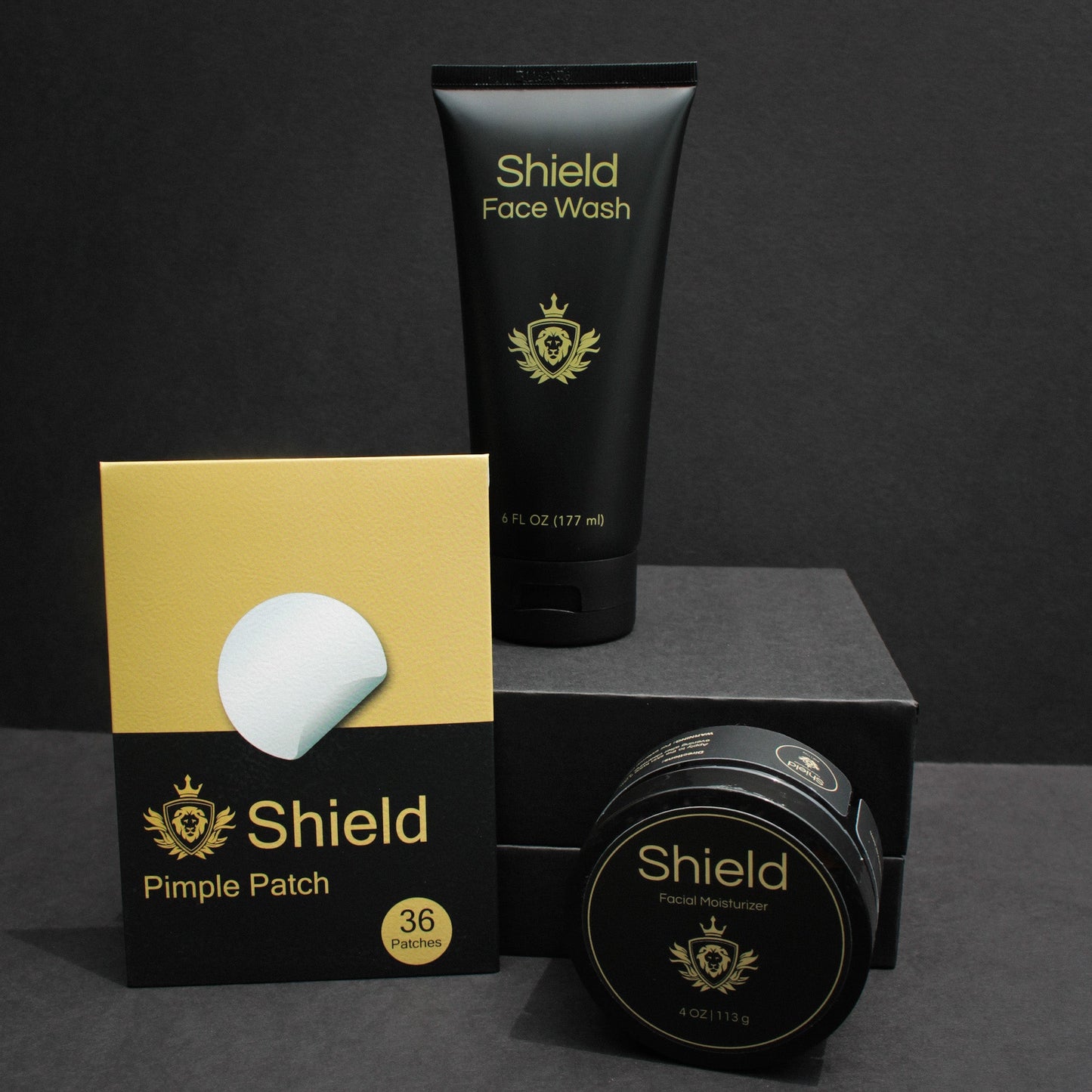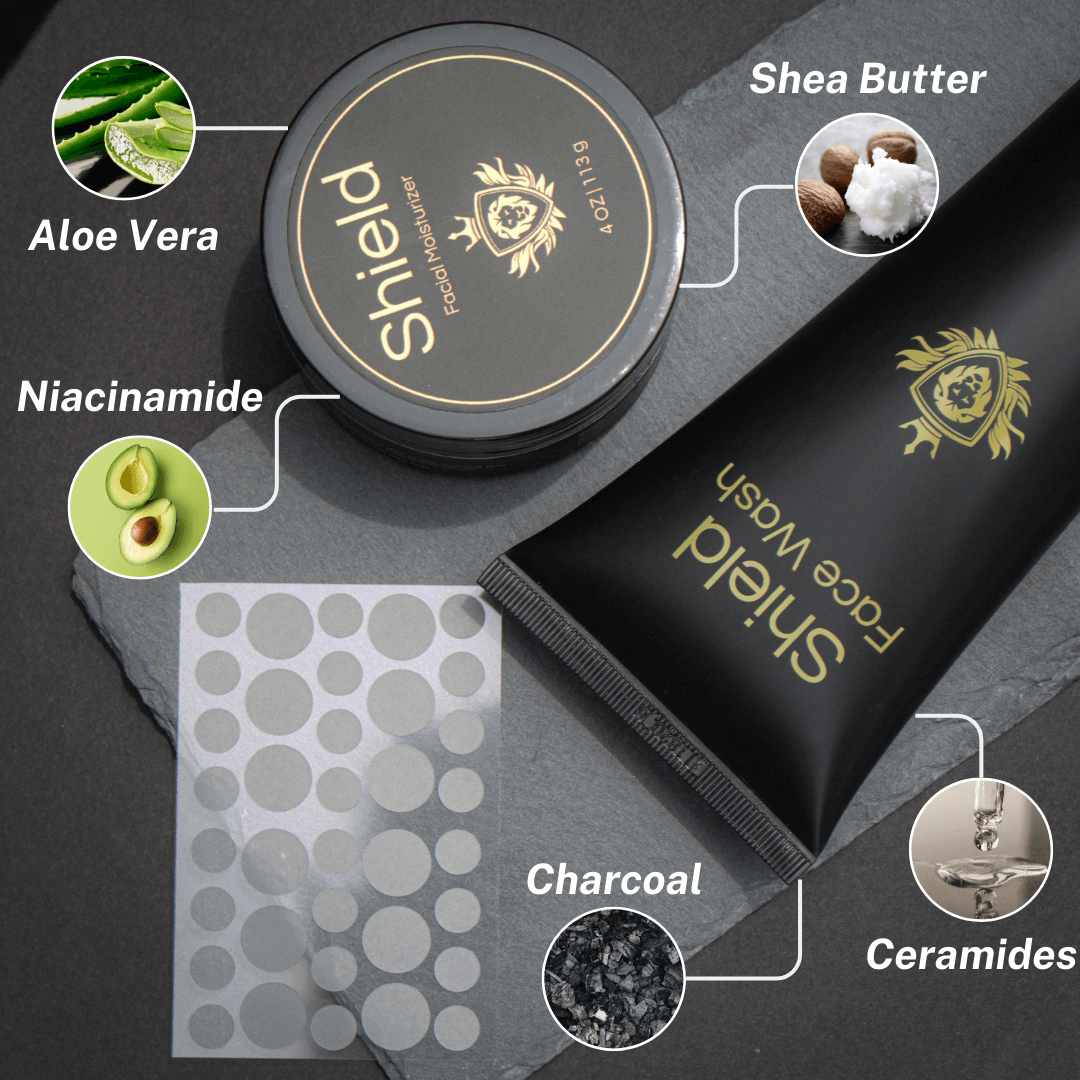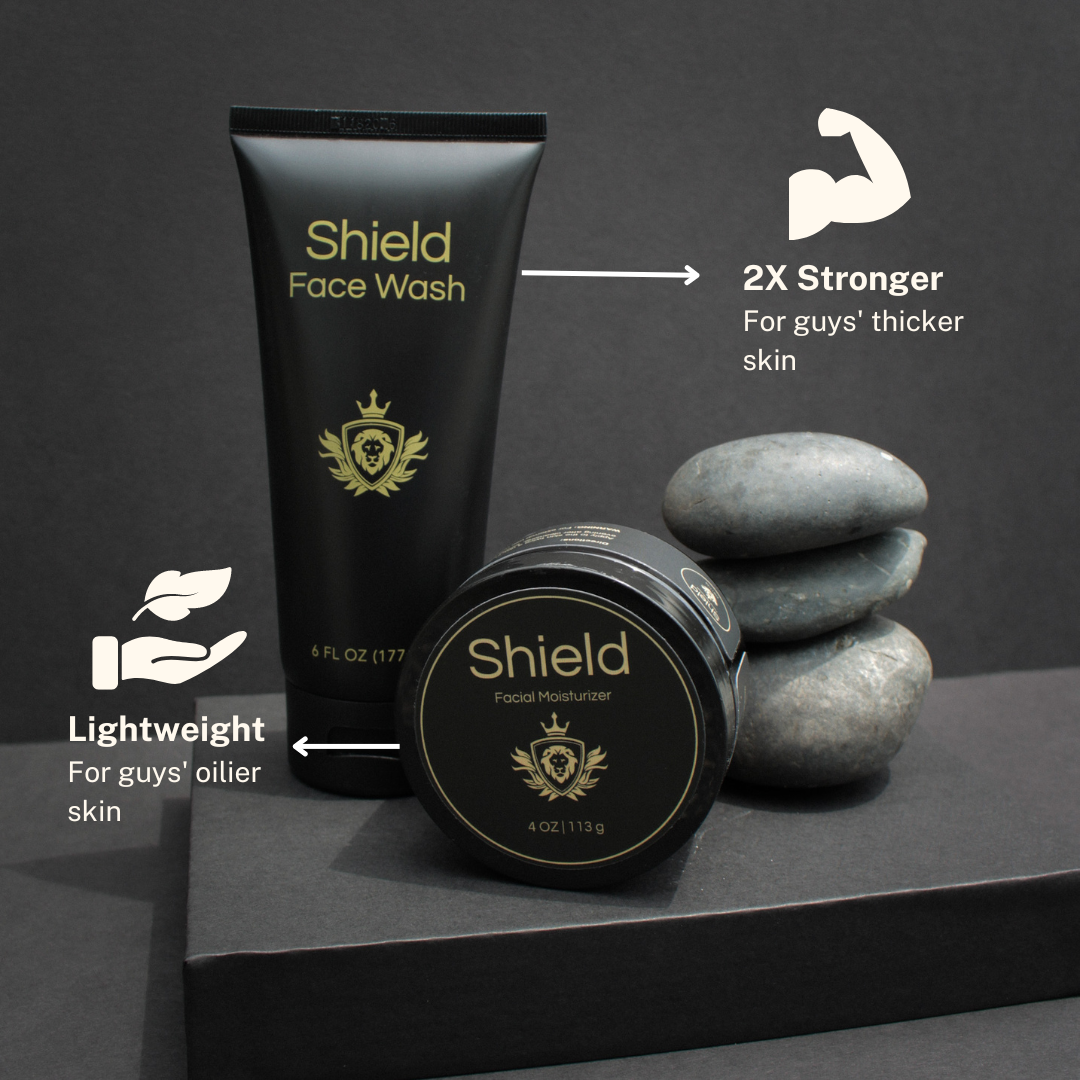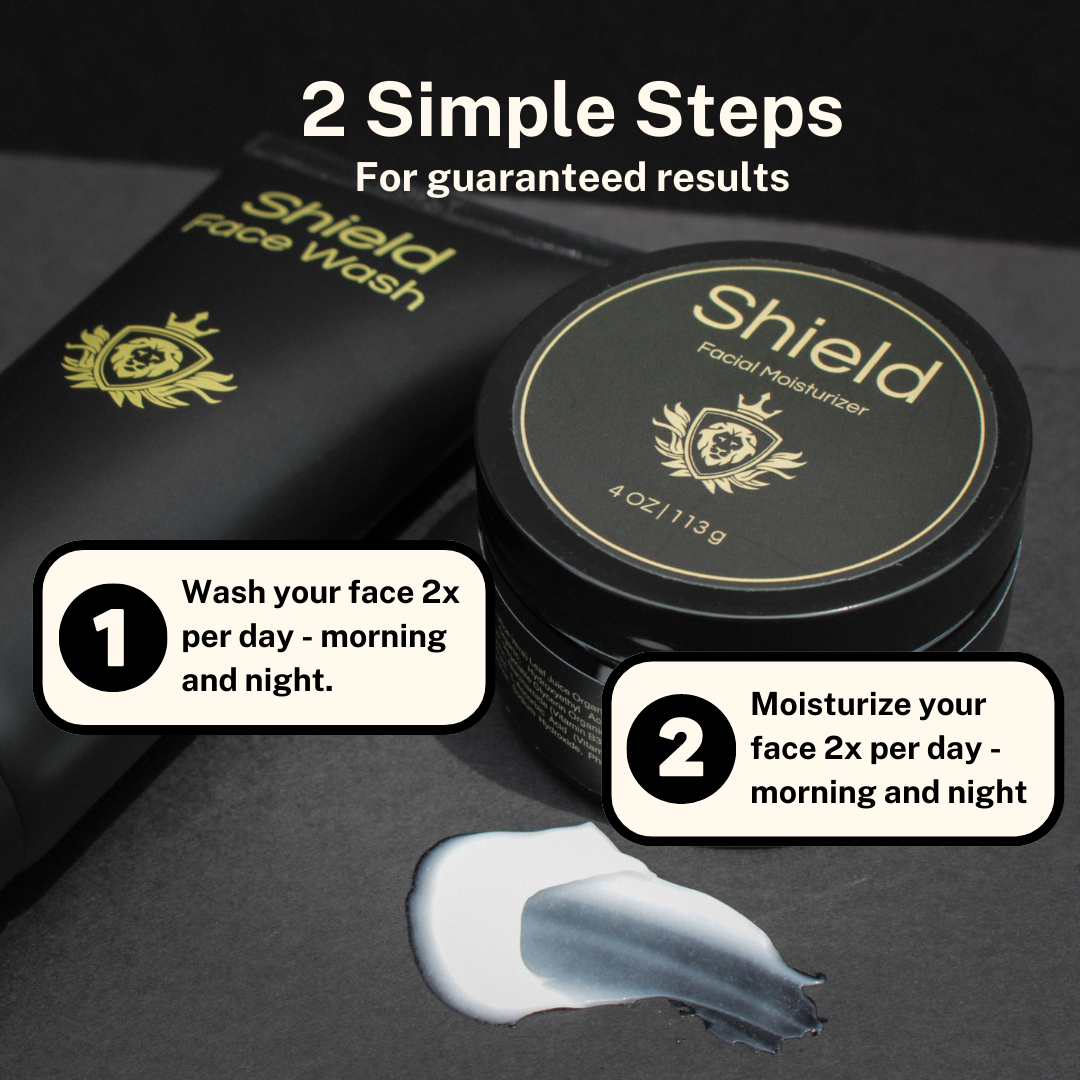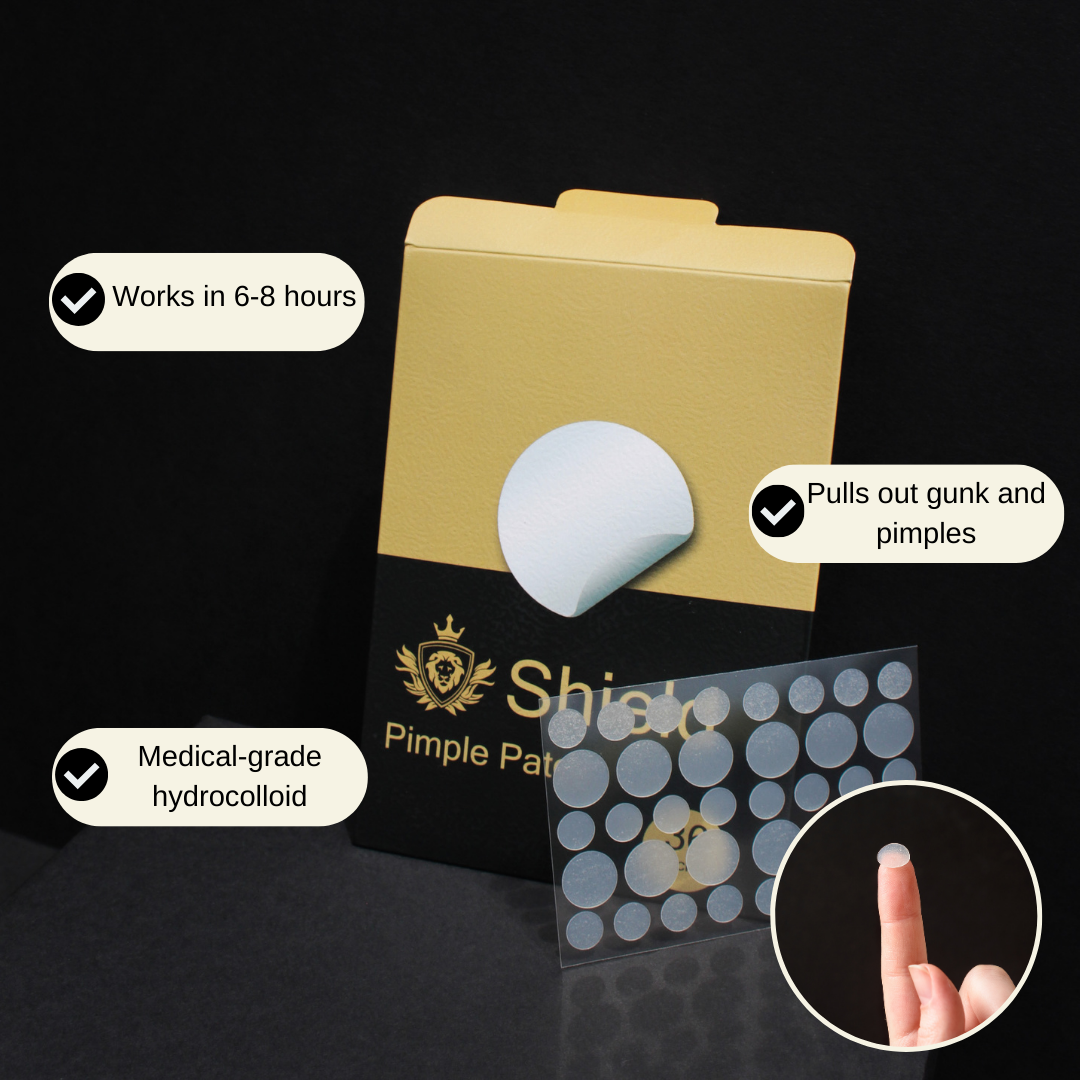 Acne fighting technology
What's included in Shield System?
Our simple 3 step solution keeps your skin clear and acne free.
Shield Face Wash
A charcoal and benzoyl peroxide face wash that cleans deep without overdrying.
Shield Moisturizer
An ultra lightweight daily moisturizer that hydrates your skin and prevents greasiness.
Shield Pimple Patches
Hydrocolloid patches that suck out gunk and pimples in as fast as 6-8 hours.
Science-backed, natural ingredients clear stubborn acne without irritation
Frequently Asked Questions
What if I have sensitive skin?

Shield is surprising gentle and a great acne solution for those with sensitive skin. However, Shield's ingredients are powerful, so if you have sensitive skin follow these steps when starting your routine.

1. Patch Test - apply a small amount of Shield Face Wash to your forearm or behind your ear. Wash off after 30 minutes. Check back after 24 hours and if there is no reaction proceed to step 2.

2. Use Daily - use Shield System once daily. At night is best, but either morning or night is fine. If acne persists after a few weeks, proceed to step 3.

3. Use Twice Daily - use Shield System twice daily, in the morning and at night. If you feel any irritation or reaction, revert to using once daily.
Is Shield right for me?

Shield is made to clear acne on men's oilier, thicker skin. Shield may not be the right choice for women or men with drier skin, but is an amazing acne solution for men with oily skin.
How do I use Shield?

To use Shield, simply apply the face wash and moisturizer twice per day, in both morning and night. Shield is gentle, but if you sense any irritation only use once per day (ideally at night). These 2 simple daily steps are all that's needed for clear skin.

Pimple patches should be used as needed on any blemishes or pimples. Simply press the patch on the spot for 5 seconds, then wait 6-8 hours. The patch will pull out gunk and pimples, providing you clearer skin instantly.
What if Shield doesn't work for me?

We're so confident in Shield's effectiveness that we offer a 100 day trial period.

If you're not completely satisfied with Shield, simply contact us at info@myshieldsystem.com and we'll issue a full refund.

Your payment processor will then issue the refund in 2-10 business days.
Do you offer free shipping?

Shield offers FREE shipping on orders over $40.

All orders ship within one business day via UPS, FedEx, or USPS from our warehouse located in Miami. 

Orders typically take 3-5 business days to be delivered.

Tracking information is provided via email from info@myshieldsystem.com upon shipment of your order.
#ShieldNation
Making America more handsome, one man at a time
I started Shield because of my personal experience dealing with acne. After learning how doctors prescribe guys different solutions for our oilier, thicker skin, I worked with dermatologists to develop Shield.
Founded in 2023, Shield is re-inventing the approach to men's acne, and we're doing it without cutting corners.
I know how most acne products over-promise and under-deliver, so I really appreciate you giving Shield a chance. I want Shield to be life changing, so if you're not happy with your purchase for any reason please reach out for a full refund.