Natural Ingredients

Made for Guys

Non-Greasy

Trusted by Thousands ⭐⭐⭐⭐⭐ 
What Guys are Saying
"Healthy happy skin"

"I have been looking for a natural facial moisturizer that is not too oily. Every night after I shower I spread a dollop on my face and it melts in. My skin just feels like skin, not dry or oily or anything. Just healthy happy skin." – Jake ⭐⭐⭐⭐⭐

"Perfect light weight moisturizer"

"Perfect light weight moisturizer. I have very acne prone, oily skin and love this because it isn't heavy or greasy like most moisturizers." – Thomas ⭐⭐⭐⭐⭐

"Reduces visibility if I have a small bump"

"Great, my face was usually dry and lotions would break out my face, but with this it even reduces visibility if I have a small bump. Keeps my face moist all day." –
Matt ⭐⭐⭐⭐⭐

"Best Moisturizer I've ever had"

"Best Moisturizer I've ever had. The smell is personally one of my favorites. Literally just smells natural and manly if that makes sense lol." – Noah ⭐⭐⭐⭐⭐
Regular price

$26.00

Sale price

$26.00

Unit price

per

Sold out

Regular price

$28.00

Sale price

$28.00

Unit price

per

Sold out

Regular price

$14.00

Sale price

$14.00

Unit price

per

Sold out
How Shield Works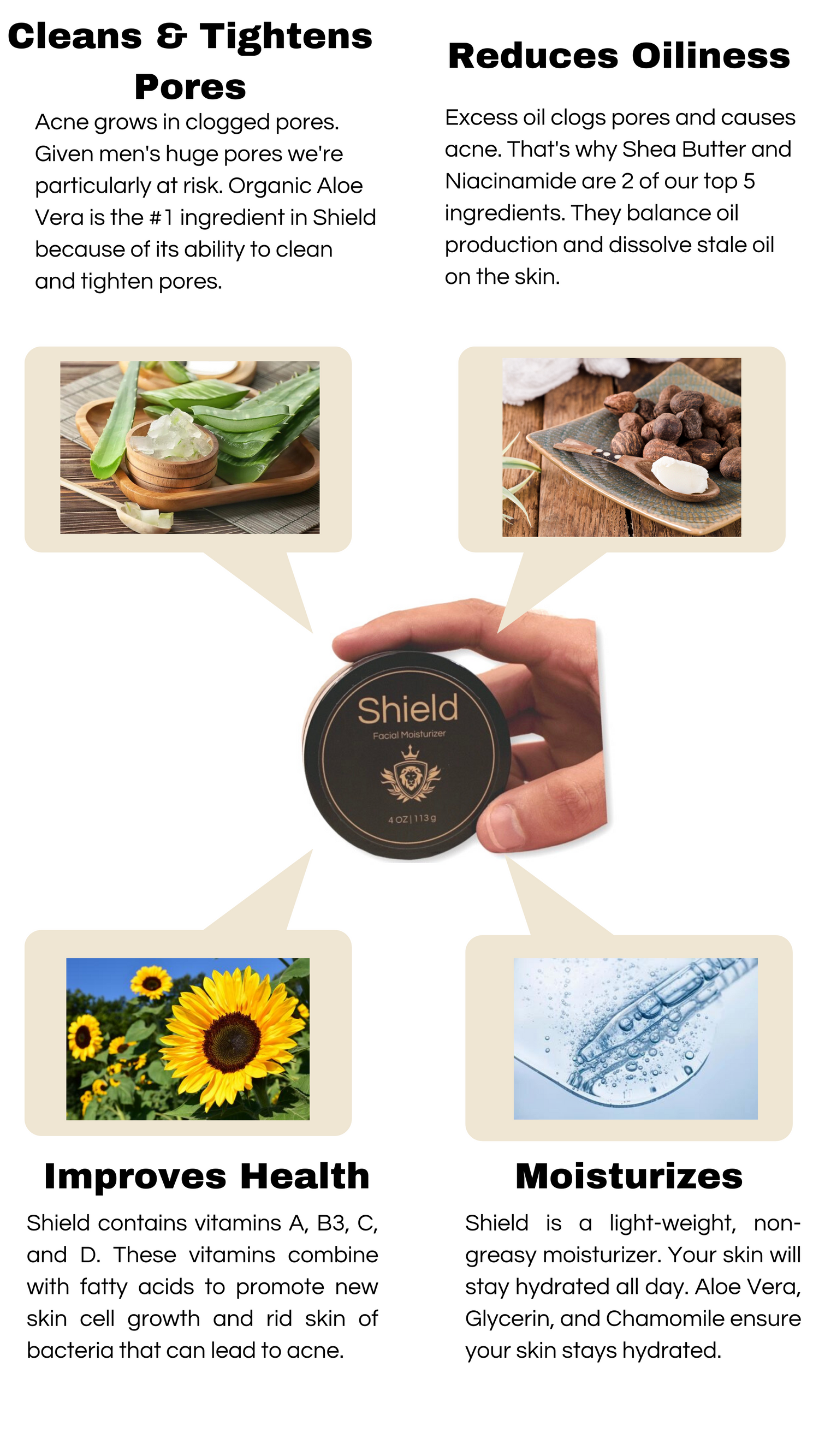 Organic Aloe Vera

Moisturizes- Helps skin stay hydrated.

Shrinks/Tightens Pores - Aloe is capable of re-setting the skin's pH to normal levels. Aloe causes the pores to shrink and tighten. That keeps out impurities and grime. Fewer germs = less acne.

Unclogs pores - Aloe not only kills skin viruses and bacteria that cause acne but unclogs the skin's pores. That significantly reduces whiteheads and blackheads.
Organic Shea Butter

Controls Oil Production - Shea butter contains ingredients that are similar in composition to the skin's natural oils (sebum), which means thatit can help to fool your skin into thinking that it's already produced enough oil, thereby regulating the skin's oil production over time.

Quick Relief- Shea also absorbs rapidly, which could mean quick relief for flare-ups.
Organic Sunflower Seed

Sunflower Seed is full of vitamins E, A, D, C which keeps the skin supple and works as an excellent face moisturizer with its antioxidant activity. This oil helps the skin cells to regenerate and prevent acne.
Niacinamide (Vitamin B3)

Retains Moisture- Vitamin B3 works to prevent water loss and retain skin's moisture content.

Reduces inflammation– Niacinamide helps soothe inflammation which might lessen the appearance of redness caused by some skin conditions.
Organic Vegetable Glycerin

Organic vegetable glycerin is an outstanding moisturizer and skin cleanser that also provides softening and lubricating benefits. It is derived from organic palm or sunflower oil.
Chamomile Flower Extract

Chamomile is used as a conditioning agent to improve appearance by helping restore suppleness to the skin and reduce the appearance of dry and flaky skin. Chamomile is also used to moisurize dry skin.
Vitamin C

Vitamin C accelerates the production of both collagen and elastin, which help keep the skin plump and firm. Topical vitamin C can help prevent aging of the skin, restoring a youthful, smooth appearance to the skin.
Tangerine Oil

Tangerine oil is particularly helpful for treating skin conditions such as irritation and acne. Its antifungal and antiseptic properties help to prevent skin infections and breakouts. It also visibly reduces stretch marks and scars.
Fragrance

Shield's manly scent comes from our added fragrances, primarily Sandalwood and fruit extracts.
Stabilizers

We use Stabilizers to prevent spoilage, balance PH, and preserve structure.

Full list: hydroxyethyl acrylate/sodium acryloyldimethyl taurate copolymer, phenoxyethanol, ethylhexylglycerin, sodium hydroxide.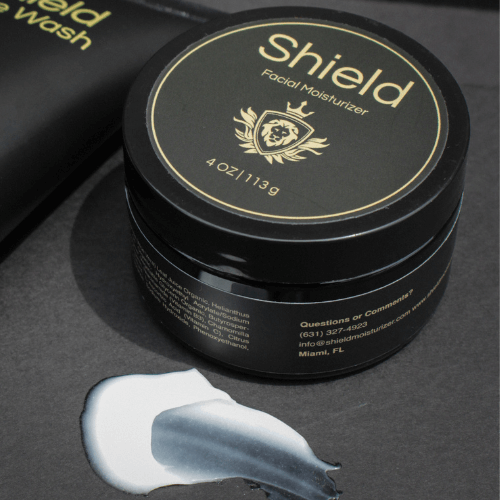 Shield Moisturizer
Regular price
$26.00
Sale price
$26.00
Unit price
per
Sold out
Share
View full details